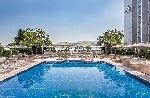 Date:
April 27, 2019 to April 27, 2019
Where:
Terrasse Poolgarden - Hôtel Président Wilson, 47 Quai Wilson, Genève, Suisse, 1201
Event Type:
Food & Dining
La terrasse Poolgarden réouvrira ses portes dès le 27 avril 2019 avec le Pool bar et la piscine.
Le restaurant Umami quand à lui réouvrira les midis dès le 13 mai, puis midi & soir dès le 27 mai (en fonction des conditions météorologiques).

*

The Poolgarden terrace will reopen its doors as of April 27th, 2019 with the Pool bar and the Swimming pool.
The Umami restaurant will reopen on May 13th (lunch time only) and then from May 27th (lunch time and dinner time) according to the weather conditions.